This page will teach you more about the various tennis programs for kids and what might be best for you based on the student's age, ability, and goals.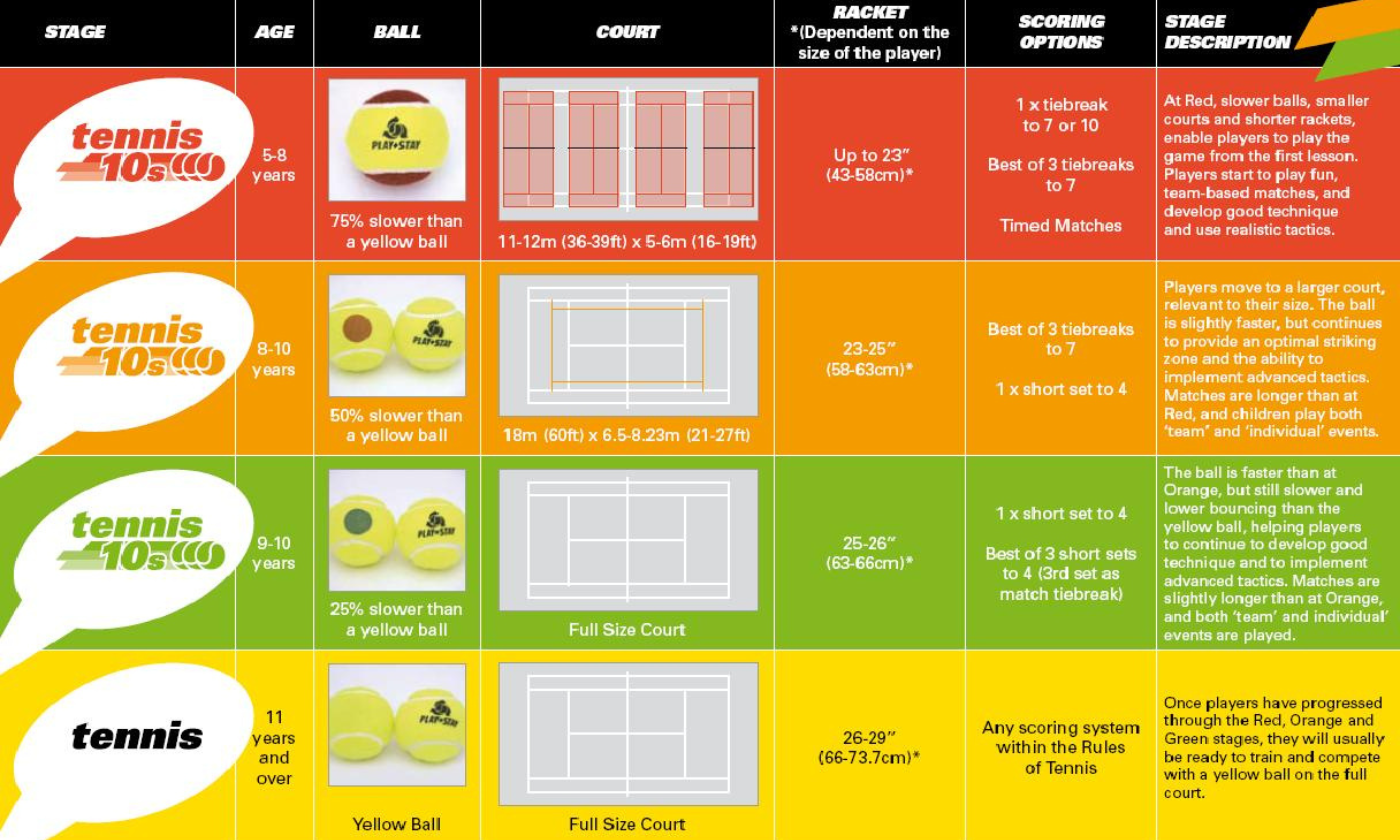 A typical progression for new tennis players is depicted in the chart above. The court's shaded area represents the active playing area and the color tennis ball used in instruction. There are numerous ways to begin playing tennis or improve your tennis game depending on your child's age, ability level, and interest! The truth is that there is no such thing as a "good age" for your youngster to begin playing tennis. We know lifelong tennis players who started when they were teenagers!
The younger the child, the easier it is to develop proper long-term habits and muscle memory when hitting tennis strokes. For many years, the sport has been taught using several tennis balls that vary in size, weight, and compression to help children excel. For a better understanding, please see the general chart below.
Similarly, racquet technology has advanced in recent years to allow for a broader range of appropriately sized racquets for children based on age and physical size. All of this means that there has never been a better time for your child to properly learn the game of tennis.
Red ball: Tennis basics are taught to extremely young beginners in this lesson. To encourage successful ball contact, low compression red balls are used. Typically, children aged 5-8 are recommended.
Orange ball: The orange ball is for beginners and intermediate players aged 10 and under who are ready to play on a slightly larger court. The classes aim to help students improve their athletic abilities while learning or refining the skills necessary to serve, rally, and score. Typically, children aged 8 to 10 are recommended.
Green ball: Players learn how to correctly position themselves to execute groundstrokes and volleys, hit with purpose, serve, and eventually sustain a rally of varying speed and duration. Typically, children aged 10 to 13 are recommended.
Yellow Ball: Emphasizes the development of service and receiving skills, good footwork, racquet mechanics, and incorporating similar athletic skills learned in other sports. Ages 13 and up are typically advised.