Find out what the best tennis racket for advanced players is for you and how to make an informed buying decision.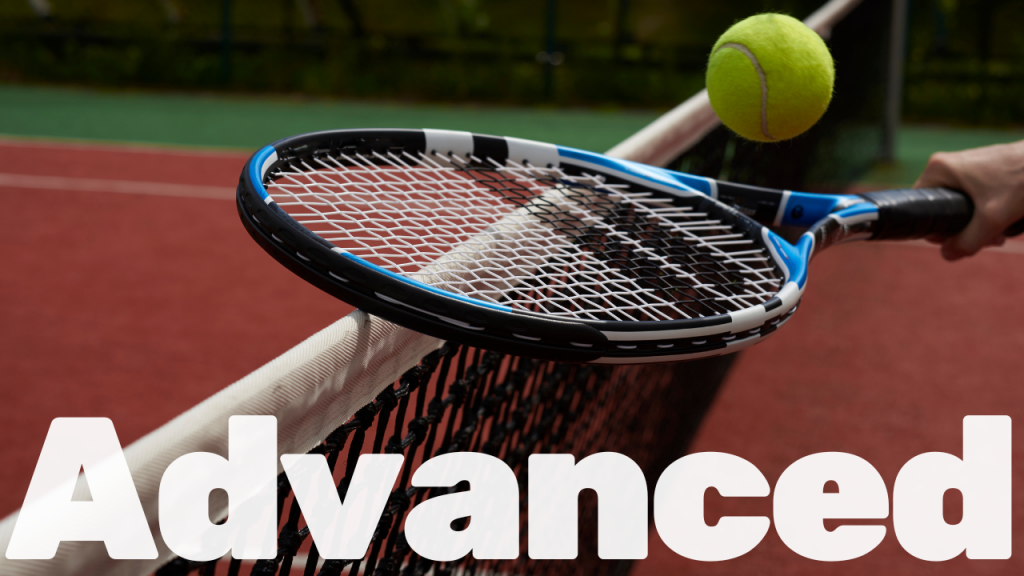 ---
Finding the ideal balance of feel, power, and control can be challenging when selecting a tennis racket. This is because your racket serves as an extension of your arm and expresses your style, game, and even technique.
Simply put, the best tennis rackets will improve and amplify your on-court performance. Our team carefully searched the vast inventory of available racquets to identify the top rackets for players of every skill level. Here are some of our favorites.
---
quick navigation
---
Top Pick
Runner Up
Contender
---
---
Best Tennis Racket For Advanced Players
---
Wilson Pro Staff 97 v13
If you play a lot of tennis and can generate power, this might be your racquet. Some of the elite players in the world use this racquet to control the point from all areas on the court – Federer used a heavier version.
The smaller frame (97 sq. in.) give it a smaller area to make contact. The frame is designed for optimal touch and control. Also, the racket's 11.7-ounce weight allows you to generate enough power for strong and experienced players.
This racquet is one of the best tennis racquets for advanced players who play tennis frequently. It has great mobility and all-around use for singles and doubles.
---
Babolat Pure Drive
The Babolat Pure Drive 2021 tennis racket has been among the most favored models for all the right reasons. First, it has an incredible balance of power and control that appeals greatly to intermediate-to-advanced players.
With its heavy topspin and crisp feel, the Babolat Pure Drive fulfills all of the promises for great performance and playability from all areas of a tennis court. This racket will complement your game well, especially if you are an aggressive baseliner and help you to put away volleys with ease whenever needed.
---
Yonex VCORE Pro 97
The Yonex VCORE Pro 97 is an excellent racket for experienced players with a low stiffness rating, good stability, and tons of control. It is my personal favorite of the entire line and a must-demo for experienced players searching for control, spin and speed.
---
Wilson Blade 98 v8
Due to the level of feel, flexibility, and control the Wilson Blade 98 offers, it is one of the most commonly used frames at the higher recreational, college, and professional levels.
The Blade 98 v8 might become your new go-to stick if you're a more control-oriented player who enjoys hitting with a lot of variety. However, if you want to hit with a lot of topspin from the baseline like Rafael Nadel, other rackets are probably a better fit.
---
Babolat Pure Aero
It's a powerful racquet for the right player while generating good topspin. Even though it has a reputation for being full of power and spin, the control is still quite decent.
The main model is 100 in2 and relatively lightweight for a player's racket. Ultimately, aggressive baseliners who want to control the action on the court with pace and spin should stick to the Babolat Pure Aero.
---
Wilson Clash 100 Tour
The Wilson Clash 100 v2 is easy on the arms and provides a balanced performance all around. It has a generous 100 in2 head size, an open 16×19 string pattern for medium power, and lots of topspin potential.
The Clash 100 is a fast-swinging racquet with a manageable 10.9 oz weight, which is essential for players who want to generate more topspin. This racket is a great fit, particularly for players who have had to deal with arm pain in the past.
---
Yonex EZONE 98
The best all-court tennis racquet for control is the Yonex EZONE 98, which both Naomi Osaka and Nick Kyrgios endorse. This racquet is a great choice for intermediate to advanced players thanks to its features and technologies.
The string pattern is 16×19, and the head size of 98 in2 offers a good feel for some serious power tennis. The Yonex EZONE has great maneuverability, a big sweet spot, and simple power potential.
---
Head Graphene 360 Speed Pro
The Speed Pro combines a traditional 18×20 string pattern giving it the kind of control and feel experienced players crave. Overall, the Head Graphene 360 Speed Pro is a great modern racket option with the same exceptional control you expect of the Speed Pro series but with added stability, spin, forgiveness and enough power to finish points.
---
Dunlop CX 200 Tour
The Dunlop CX 200 Tour is the best there is for control and feel. Although 95 in2 head-size rackets are becoming less common, this one has a slightly larger sweet spot than most other rackets.
With the CX 200, you get razor-sharp accuracy and a fast-feeling frame. Dunlop has given seasoned players a quick and accurate weapon with the CX 200. In addition, the excellent impact feel is a welcome bonus.
---
Babolat Pure Strike 16×19
With this racquet, Babolat adds new dampening technology while maintaining the excellent playability of the renowned Pure Strike 16×19. This racquet is more stable and powerful than the previous generation, thanks to a slightly higher swing weight.
However, it still offers the same insane precision on full swings and is quick enough for aggressive all-court players. The Pure Strike 16×19 feels stable and precise straightaway.
Although it has a smooth response and good ball feedback, it still offers spin-friendly precision. Despite minor feel updates, the Pure Strike 16×19 remains one of the more user-friendly player's racquets in the Babolat lineup.
---
Also Good Tennis racquets for advanced players
---
---
Also, check out our page for the Best Tennis Rackets For Intermediate Players!
---
FAQS
How Much Does A Tennis Racket Cost?
The price range for an average tennis racket in the USA is between $20 and $250. Also, more competitive-minded players may need to spend between $175 and $280 to get a good racket.
How do I choose an advanced tennis racquet?
When choosing a racquet for advanced players, keep in mind to look for a:
midplus to midsize head size
medium to heavy weight frame
racquets optimized for control and feel
What tennis racket is used most among ATP pros?
Wilson Blade 98 – 12 Players
Babolat Pure Aero – 8 Players
Wilson Pro Staff 97 Countervail – 8 Players
Tecnifibre ATP Tfight XTC – 7 Players
Head Graphene 360 Speed Pro/MP – 7 Players
Babolat Pure Drive – 6 Players
Head Graphene Touch Prestige – 5 Players
What tennis racket is used most among WTA pros?
Wilson Blade 98 – 19 Players
Yonex VCORE – 16 Players
Babolat Pure Drive – 8 Players
Yonex EZONE – 8 Players
Head Graphene 360 Speed Pro/MP – 7 Players
Babolat Pure Aero – 6 Players
Wilson Pro Staff 97 – 5 Players
What is the highest-rated racket on tennis warehouse?
Babolat Pure Drive 2021
Wilson Pro Staff RF97 v13
Wilson Clash 100
Head Graphene 360+ Speed Pro
Head Graphene 360+ Speed MP
Babolat Pure Strike 16×19 3rd Gen
Babolat Pure Aero
Yonex VCORE 98
Wilson Blade 98 16×19 v8
What is Strung Weight?
The strung weight is the total weight of the racket when it has been strung, so when you're out playing, this is the weight you're actually playing with. Generally, strung weight is approximately 15-18g (0.5 oz) heavier than unstrung weight.
---
Final Thoughts
So there you have it, a rather in-depth guide on how to find the best tennis racket for your game. Remember that the information above is based on my experience purchasing, testing, and assisting others in choosing a tennis racket. Your individual experiences may vary.
Now you can choose from any of the racquets mentioned above, and I wish you all the best in finding the one that will take you to the next level and let us know if you have any questions you might have.
---