What exactly is a drop shot in tennis? A drop shot is when the ball is hit softly, barely clears the net, and lands short in the court.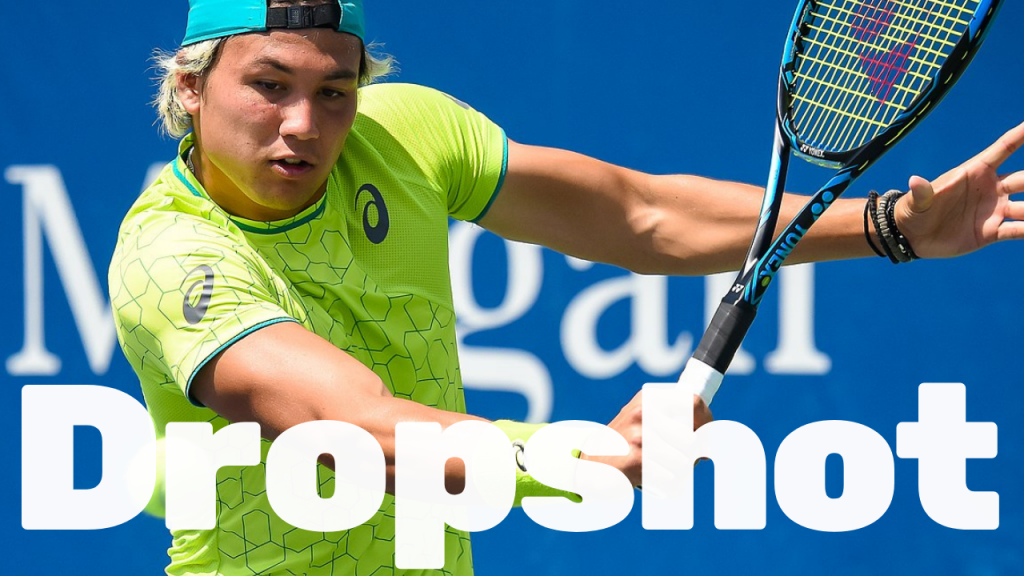 Tennis drop shots are most effective when the opponent stands behind the baseline or is out of position (i.e., forced out wide). This is due to the opponent's inability to run towards the net and get it before it bounces twice.
How Do You Execute a Drop Shot?
The drop shot can be lethal if executed well and with great precision. This article will teach you how to hit a drop shot correctly in tennis. Feel free to skip ahead to your preferred topic.
quick navigation
1. Grip
The Continental Grip is ideal for hitting a good drop shot. It's the same grip you'd use for a slice or volley. With the Continental Grip, you can hit the ball out in front to control placement and spin.
2. Backswing
You usually do not take a backswing if you want to hit a tennis drop shot. A backswing is merely a disguise. If you catch your opponent off guard, you must use a shorter backswing as a disguise. If you don't start with a backswing, your opponent will be able to read your next move and be readily prepared for your drop shot. The only thing you need to remember when hitting a drop shot is to keep your racket about one foot above the point of contact. This is for you to create a brushing effect on the ball, which will result in backspin. Backspin slows the ball down, resulting in a shorter bounce once it hits the court. The shorter the ball's bounce, the better because your opponent will have a more challenging time returning it.
3. Contact Point
To avoid inconsistency, maintain the same racket angle and avoid curling the racket less than a second after making contact. Your low body position allowed the horizontal position of the racket's long axis at this stage of the shot execution. As a result, a perfect racket angle is obtained.
The point of contact should be directly in front of you. The most comfortable contact height is usually between your shoulder and your waist, while the waist height should be the easiest to accomplish. It's also critical to keep your eyes fixed on the point of contact for at least a second after contact.
4. Follow Through
Some drop shot executions necessitate a lengthy follow-through. On the other hand, a drop shot will have a follow-through if your racket moves more quickly, resulting in more slice upon ball contact. Furthermore, this type of drop shot swing path generates a lot of backspin.
5. Fundamentals
A perfect drop shot has slice and backspin because of the brushing effect between the ball and the racket face during contact. Slice or backspin slow down once the ball has cleared the net and your drop shot is effective if the ball bounces six times before reaching the service line. Keep in mind that an effective drop shot is never too long. The closer the ball is to the net, the greater the distance your opponent needs to cover. Another trait of a solid drop shot is when the ball is in a "falling" motion once it clears the net.
6. Hide Your Drop Shots
To keep your opponent from detecting or anticipating a drop shot, imitate a normal topspin groundstroke, which is the most effective disguise. Then, the topspin Grip should be quickly switched to the Continental Grip, which is useful for both backhand and forehand shots. Novak Djokovic, for example, has the unique ability to disguise drop shots on his backhand side, whereas Nick Kyrgios can flawlessly hide his forehand drop shot.
7. Best Time To Hit Drop Shots
Drop shots should land somewhere in the service box, farthest from your opponent, and they are most effective when your opponent is well behind the baseline. Then, when he expects a deep rally ball, a drop shot can be hit to throw him off balance and catch him off guard. One of the many reasons to use a tennis drop shot is to make your opponent runs for the ball, throwing him off balance and giving you a chance to win a point.
However, to hit a drop shot, you must have excellent timing. You have one option when your opponent is positioned far back on the baseline. If he is in the center of the court, hit the ball to the farthest side of the court. If your opponent is forced out wide, you can also do this. Then, hit the drop shot to the opposite side, forcing your opponent to cover the longest diagonal distance possible.
The tennis drop shot is also great if your opponent is not a quick runner. If your opponent is a quick runner, make sure you put your shot so far away from him that he cannot make it no matter how fast he runs. If your opponent is not a player that comes to the net a lot, you can also use a drop shot.
8. Best Drop Shot Opportunities
Next, I've listed several occasions when it's ideal to hit a drop shot:
Opportunity 1: If your opponent is tired, slow, or out of position, the drop shot is a viable strategy at any level—beginner, intermediate, advanced, or professional.
Opportunity 2: The drop shot, for example, is a very effective tactic late in the third set because your opponent isn't as fresh as they were at the start of the match.
Opportunity 3: If you've dragged your opponent off the court with an angled shot, it's often effective to play a drop shot right after while they try to recover. The opponent will be thrown off balance by this change of direction.
Opportunity 4: The drop shot is highly effective if you can hit with power and push your opponent behind the baseline.
As a result, aggressive players like Nick Kyrgios, Carlos Alcaraz and Daniil Medvedev hit a lot of drop-shot winners. Be aware, and when your opponent is expecting a hard shot deep in the court, the drop shot is a sure winner.
9. Best Drop Shot Tactics
Tactic 1: My preferred drop shot placement is down the line. Always. And the reason is pretty straightforward. On the one hand, it's easier to hit because you're closer to the target than if you hit it crosscourt. But, on the other hand, it is more successful because the ball takes less time to hit the ground, allowing your opponent less time to react and get it.
Tactic 2: That I always follow my drop shots to the net. (Unless, of course, I'm asleep!) So I give my opponent no chance by rushing to the net (the closer, the better! ). Unless the drop shot is too high, in which case it's more of a suicide than a drop shot. If my opponent gets to the ball, they'll get to it when it's already low, so they'll have to hit it defensively – slow and low to high. That scenario allows me to put away the next ball quickly and easily by already being at the net.
Tactic 3: I've never attempted a drop shot from behind the baseline. That is simply too difficult. And the chances of missing it are far too high. Especially when you consider that the farther you are from the net, the longer the flight time of your drop shot, implying that your opponent has an easier time reaching it!
Tactic 4: I usually follow an attacking shot with a drop shot. That's when it's most effective! My opponent is on the defensive, well behind the baseline, ready to manage my next deep, hard shot, and baaaam, it's a drop shot! They don't even try most of the time.
Tactic 5: On a second serve, I frequently drop shot. It works like a charm! It's satisfying you won't believe it! It's simple because you can decide on this shot ahead of time, and it messes with your opponent like nothing else: Isn't it the last of your thoughts on a second serve to get ready to run forward?!
10. Drop Shot No No
When you're out of position, never use a drop shot. The best time to try the drop shot is when the opposing player is out of position; the worst time to try one is when you are out of position. You must have your feet balanced and on the ground if you want to hit amazing drop shots.
Furthermore, if the drop shot is used too frequently, it may become predictable. When your opponent begins to anticipate your drop shots, they will be able to attack the short ball right back at you.
11. Read Your Opponent's Drop Shot
By closely reading your opponent's backswing, you can easily distinguish between drop shots and slices. For example, if their take-back is high, it will likely be a drop shot. However, since you want to slow down the ball, the swing will most likely resemble a pendulum or a cup.
So, the swing is much lower when the opponent intends to hit a hard slice, and the ball is driven in a straight line.
12. Best Way to Return a Drop Shot
After you've learned to recognize your opponent's drop shot, you must decide what to do next. In most cases, tennis players respond with a counter drop shot deep down the line to cover most of the net. On the other hand, a deep crosscourt ball gives your opponent more room to hit into the open court or down the line.
13. Best Tips To Improve Your Drop Shot
By using a ball machine or playing a practice match, you can practice your drop shot using the techniques discussed above.
Use the proper grip (continental), keep your backswing short, and swing the racquet in a cupping motion under the ball.
To improve the effectiveness of the drop shot, you must disguise it; otherwise, an opponent with a quick pair of legs will get you in trouble. So, whenever possible, disguise your next move by faking a groundstroke.
It's a strategic shot, not a routine one. So, use it sparingly and in moderation.
Drop shots can be used in various ways, such as an approach shot to catch your opponent off balance or change the game's pace.
Keep your eyes on your opponent to identify a drop shot from the opposing side. The high take-backs are vital for noticing when your opponent attempts a drop shot.
Continue to practice, and you'll be just a few steps away from becoming the next big thing in your local tennis club. This shot is just as crucial as the groundstrokes, so practice it frequently. Mastering this type of hit will raise your game and make for a more enjoyable, dynamic, and fun game.