The health benefits of tennis are numerous and we will list the 10 most important ones for you in this article on the health benefits of tennis.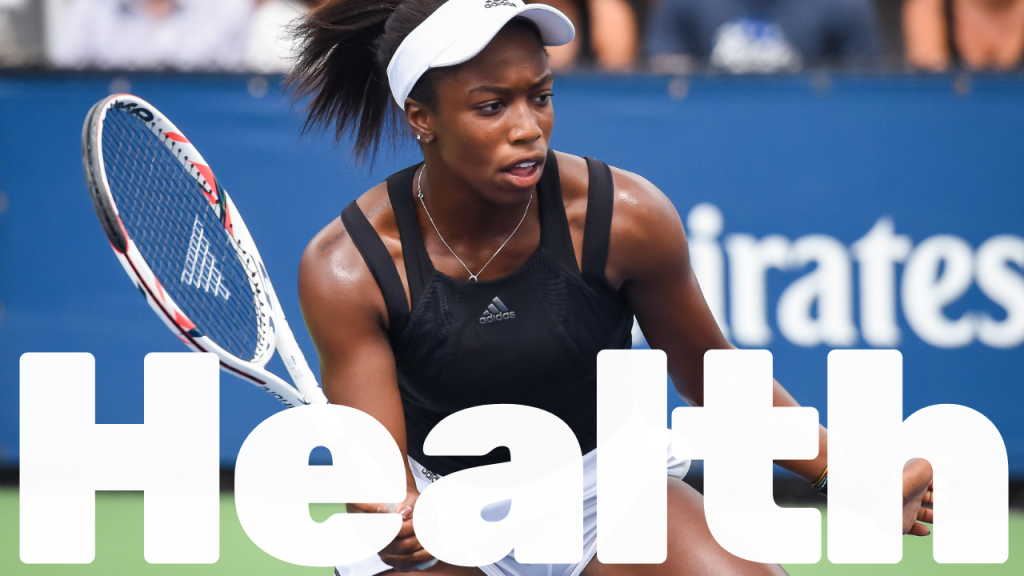 Sport is well known for keeping us fit and healthy, but what is less well known is how many health benefits can be obtained by playing tennis. Researchers investigate these questions to provide professional and recreational tennis players with a better understanding of what happens to their minds and body while playing tennis. Tennis has numerous mental and physical health benefits.
quick navigation
1. Cardiovascular Health
It's no secret that exercise and sports are beneficial to your heart health. Tennis happens to be the best sport. Tennis, being a game that can be enjoyed at any age, is ideal for keeping your optimal heart health for a lifetime. Tennis provides both an aerobic and anaerobic workout. Aerobic fitness is excellent for cardiovascular health. Anaerobic exercise trains your muscles to utilize oxygen more efficiently by alternating between short bursts of intensive activity and rest. Tennis boosts oxygen intake while increasing heart rate. This improves the efficiency with which your body delivers oxygen and nutrients to your cells and muscles.
For aerobic conditioning, the American College of Sports Medicine advises a maximum heart rate of 60% to 90%. When you play tennis, your heart rate reaches its maximum. If you continue to play, this form of frequent long-term cardiac activity will strengthen your heart. You might get what's known as an athlete's heart. Tennis matches often run one to two hours, with the pacing being perfect for boosting cardiovascular health. Improving your heart health lowers your risk of having a heart attack, developing heart disease, or having a stroke.
A 2017 study discovered that participation in racquet sports was associated with a 56% reduction in death from cardiovascular disease (and a 47 percent reduction in risk of death from any cause).
2. Bone and Muscular Health
Tennis is excellent for more than just your muscles; it is also good for your bones. Regular exercise can improve your peak bone mass and delay the rate of bone mass loss over time. The National Institutes of Health (NIH) reports that bone mass peaks around the age of 30 and then begins to go down. Exercise can help you maximize your bone mass before that age, and continuing to exercise after 30 can help delay the rate of bone loss. Tennis is one of the weight-bearing activities recommended by the NIH for building healthy bones.
3. Weight Loss
Tennis has a calorie burn rate of 400 to 600 calories per hour. Because of the sport's energetic nature, you tend to burn body fat while playing. You're also gaining lean muscle, which boosts your metabolism. Tennis can help you lose and keep the weight off.
4. Immunity
A wealth of research suggests that physical activity can benefit your immune system. Tennis is a physically and mentally demanding sport in the same way. Furthermore, playing tennis outside can enhance your exposure to sunlight and vitamin D intake, which has been linked to a better immune system. It's also an excellent method to get some much-needed fresh air and oxygen into your lungs.
5. Coordination
The more you play tennis, the more you develop the fine motor skills essential for ball striking, judging distance, and personal coordination.
With various skills and moves, tennis puts your balance, speed, footwork, and hand-eye coordination to the test. As you progress on the court, you may expect these qualities to improve in other areas of your life.
6. Brainpower
Tennis takes a creative brain, planning, tactical thinking, agility, and coordination of many body parts. As a result, the more you play tennis, the better and stronger the neural connections associated with those activities, and the better you get at them. Studies suggest that workouts that demand a lot of thought, such as tennis, can increase brain function in ways that benefit memory, learning, social skills, and behavior, in addition to enhancing synaptic connections and producing new neurons.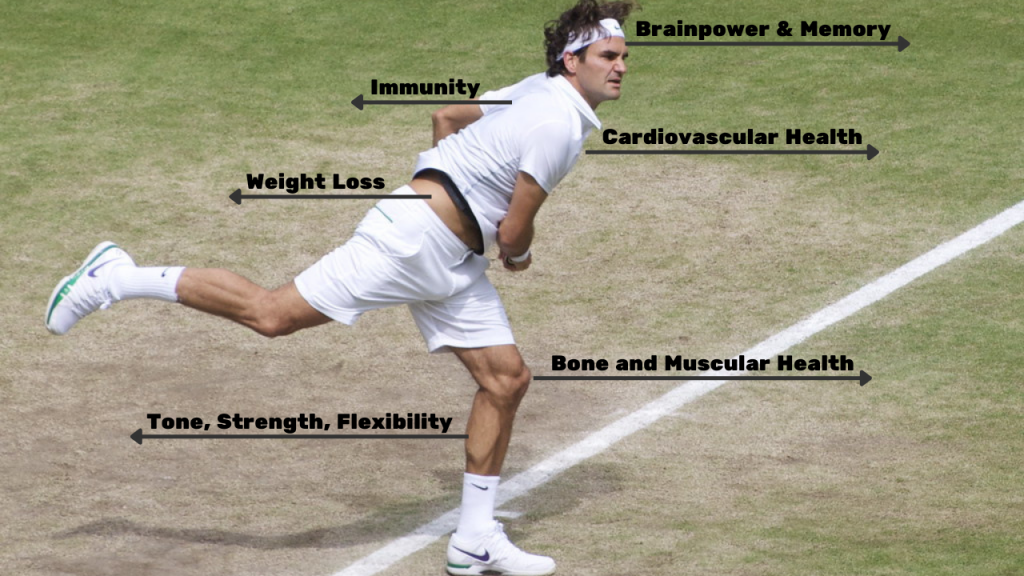 7. Memory
Scientific studies have shown many aerobic activities to increase the level of the brain-derived neurotrophic factor. Aerobic activity causes the development of new brain cells in the hippocampus, even though the brain cells that one is born with tend to remain constant except for development.
The neurotrophic factor protein promotes neuron survival, preventing various diseases such as Parkinson's and Alzheimer's. Different brain parts are stimulated to perform their functions more effectively as one plays the game. Tennis, as one of the various types of aerobic exercises, has been found to produce longer brain survival periods and an increase in various animal memories.
8. Stress
Tennis presents physical, mental, social, and emotional difficulties. This improves a person's ability to deal with perceived and actual stress and challenges and the emotional traits that promote resilience and wellness.
9. Self Esteem
Compared to their non-playing peers, young tennis players develop a greater sense of well-being and self-worth and are more optimistic about themselves and life.
10. Motivation
Tennis is played against opponents, so a tough competition ground is constructed. The game is beneficial and ideal for people of all ages, including students, workers, and retirees, because it aids in the connection of the brain to the respective fields. When a competition is won, the winners are highly motivated to perform the other tasks with the same level of accuracy that they used to win the game. This dramatically improves body functioning, which correlates with increased motivation to perform various tasks assigned to children at school or at home. Winning the tennis competition also fosters positive self-esteem, making it easier to continue with multiple tasks that appear difficult to complete.
11. Takeaway
Tennis's 'life lessons' may be the most important health benefit it provides. Players are constantly tested in how they react to situations and deal with adversity while developing a competitive and winning mentality. A study comparing the behavior patterns of adolescent tennis players to those who do not participate in sport found that tennis players develop more autonomy, assertiveness, personality, and the ability to persevere to achieve their goals. Simultaneously, they exhibited fewer behavioral traits such as neuroticism, fear, and obsession, which may harm daily functioning and interfere with healthy personality development. We will improve the ability of the younger generation of players to be mentally robust and capable of dealing with pressures and situations on and off the court when they are challenged by the game and are provided with proven and valid support mechanisms, strategies, and opportunities to learn coping skills.