We'll show you how to choose the best tennis stringing machine for you. It's easy!
Knowing how to string your own tennis racquets is a great skill to have. It might even allow you to start a small business and so save time and money. However, you will need to purchase a proper stringing machine once you have mastered the art of stringing a tennis racket.
It is important to understand what makes a good stringing machine because not all stringing machines are created equal. Obviously, your budget influences your buying decision, the number of racquets you string, portability, and versatility. Therefore, we have created this guide to assist you in choosing one of the best tennis stringing machines for you!
Best Overall Tennis Stringing Machine
Features
high tension accuracy & tension consistency
can be used for multiple racquet sports
comes with tool tray and all essential stringing tools
mounting system adjusts easily to any size racquet frame
made of strong but lightweight fiberglass
one of the best high-end stringing machines
Best Drop Weight & Mid Range Tennis Stringing Machine
Features
affordable
sturdy design
compact size
comes with hex wrench set and straight pliers
Best Budget Stringer
Features
easy to use
no assembly required
durable design
two-point mounting system
drop weight system
360-degree turntable rotation
Buying Guide
We have put together a guide to help you choose the best stringing machine for you!
Your Usage
Think about how often you'll use a tennis stringing machine before buying one. If you only string your racquets when necessary, you won't need as many features and may be content with more basic stringing machines like a drop weight machine that is less expensive. On the other hand, you'll need to spend more money on a machine with more features if you intend to string several racquets.
Cost
You've probably noticed the significant difference in price between the least expensive and most expensive tennis stringing machines available when browsing. So does it make sense to pay more? It depends on how frequently and for what purposes you'll use the stringer.
More features will be included in more expensive options, which you may or may not need or want. These parts can be useful; for instance, an electric tension device eliminates the need to crank the machine to achieve the perfect string tension manually.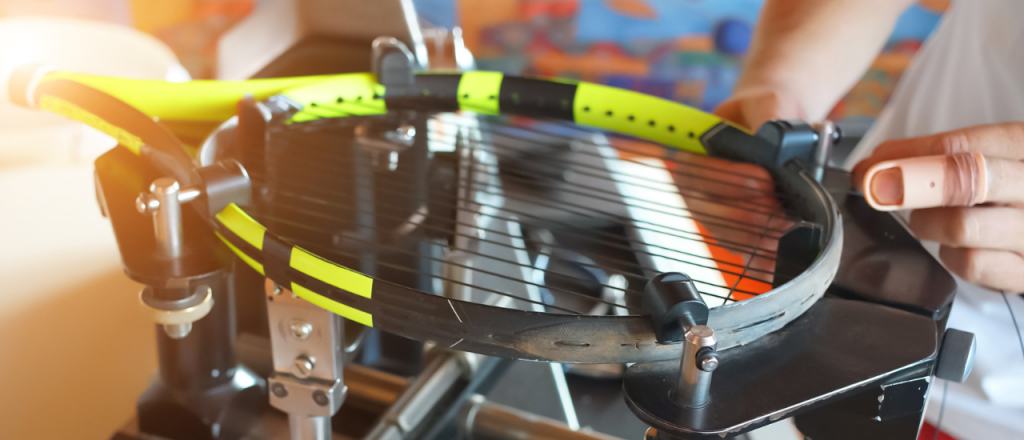 Table Top vs. Standalone
A tabletop model is what you need if you want a mobile machine. A portable tabletop machine can be used on any stable surface (e.g., table, desk, etc.) and is quite convenient. On the flip side, a standalone tennis stringing machine is a more robust version that stands by itself, strings a little faster, provides more comfort as it allows you to stand, and frequently has some fancy features.
Nevertheless, standalone tennis stringing machines are on the pricier side for a good reason. Tennis stringing machines that use a weighted bar to set the desired tension must be manually adjusted. People enjoy using these systems because they are affordable and simple to set up.
Racquet Mounting System
Different mounting systems depend on the number of connection points on stringing devices to keep the tennis racquet in place during the stringing process.
2 points : Stringing pull machines are more affordable than most other machines, but they won't be as stable as the 6-point.
4 points or 6 points : Here, the work is done more slowly, but there won't be any stability issues which will save you a lot of time down the road.
Clamps
The racquet is intended to be securely held in place by the clamps. Clamps come in two basic varieties: fixed type and floating type. While fixed clamps are attached to the machine and provide tightened clamps, floating clamps are not built into the stringing machine and accomplish their tasks by using another string to maintain and adjust the tension. Rotating fixed clamps are the best choice for stringers of all levels because some models are designed with clamps that can be rotated 360 degrees.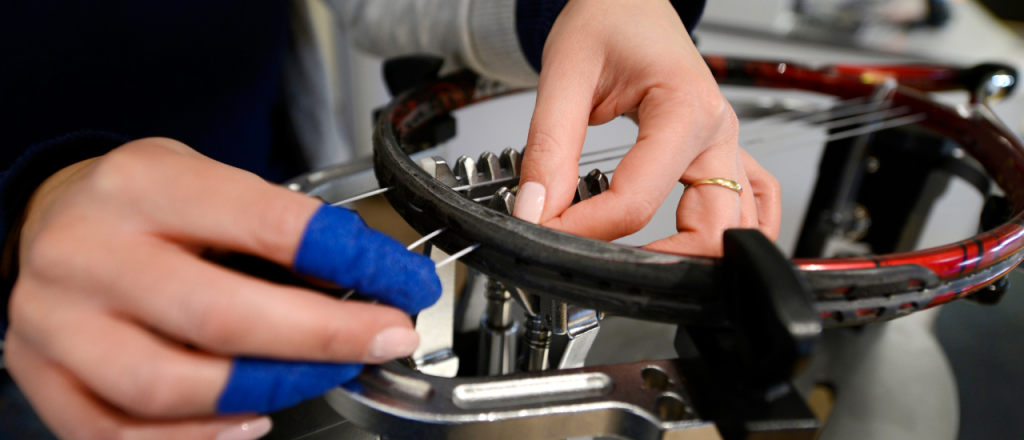 Warranty
The best manufacturers provide warranties for their stringing machines. They will assist you in addressing any issues that might occasionally come up. Since stringing machines are generally quite expensive, having that additional layer of security is great and clams your mind a bit when making a purchase like this.
FAQs
What Is the Learning Curve for Being Able to Use a Stringing Machine?
Most stringing machines are easy to learn without dedicating much time and energy. But there are still some out there that need some getting used to.
Can You Make Money Stringing Rackets?
In short, yes, you can earn money by stringing rackets. Of course, it requires commitment and focus, but you don't need to put much money up front – just some common sense – to succeed.
Is It Worth Stringing Your Own Racquets?
The act of stringing itself can be very labor-intensive and time intensive. It works for those who naturally have good focus, and if you know yourself, you know if this applies to you. Also, if you are constantly distracted, it's likely that you will take too long stringing a racket and that you will be more likely to make mistakes.
How Much Does It Cost to Restring Tennis Racquets?
The average cost to restring a tennis racquet is $40, but it can range anywhere between $20 to $80. Costs are split between labour ($10-25 per racquet) and strings ($5-50 per set).
How Often Should I Have My Tennis Racket Restrung?
Players should string their racquets as often as they play per week.
What Is the Best Tennis String Tension?
The best string tension for most players is normally between 48-55 lbs but can range anywhere between 40-65lbs. A lower string tension allows for more power but a tighter tension for better control. Beginning players will probably want more control, so they may prefer a tighter tension at first. Here are the tension ranges many stringers aim for the first time you get your racket strung, depending on the type of tennis string you will be using:
Nylon/Gut: 50-60lbs
Hybrid: 46-56lbs
Polyester: 44-54lbs
How Much Do Tennis Racket Stringers Make?
Professional racket stringers can make between 20-50k per year, depending on the size of their following and level of reputation.
How Do I Become a Certified Racquet Stringer?
A written and practical test is required for certification. Both test your knowledge and expertise in relation to all aspects of racket maintenance, including installing grommets and string, regripping, adjusting handle size, and adjusting weight and balance.
What Type of String Should I Use?
If you're a beginner, you should focus on selecting easy-playing strings which are soft, forgiving and have a comfortable feel. Synthetic gut and multi-filaments are what come to mind. As you progress to an intermediate/advanced level, you can move to more solid strings designed to give you more control and finesse. Players often choose to go with either a hybrid (polyester combined with synthetic gut or multi-filament) or just (full-bed) polyester. 
Do Tennis Players Have Their Own Stringers?
A select group of top players has their own personal stringers, but most ATP and WTA players use the on-site stringers provided by tournaments.
Final Thoughts
In the long run, stringing racquets yourself will save you money and might even become a very lucrative stringing business. Who knows?! However, before making a purchase, you should ideally demo several machines.
While it's important to take into account the machine type, tensioning system, usability, extra features, and cost, you ultimately need to make sure that you're getting the best machine for your specific needs (Electronic Stringing Machine vs Drop Weight Stringing Machine vs Crank Stringing Machine).
Therefore, before making a purchase, think about how often you will use your stringing machine, your audience, and your budget. I hope this guide will be useful to you as you search for the best tennis stringing machine. Enjoy.