From Adidas to Nike, these are the best tennis shoes out there. Read on to discover the best tennis shoe recommendations for you.
Keep in mind that we may receive commissions when you click our links and make purchases. However, this does not impact our reviews and comparisons. We try our best to keep things fair and balanced to help you make the best choice for you. As an Amazon Associate, I earn from qualifying purchases. Having said that, all buttons below will direct you to a specific page in the Amazon online store!
It goes without saying that tennis is a highly challenging sport. It has a steep learning curve that can only be overcome if we hone our skills, practice a lot, and stay as disciplined as possible. However, there is more.
What tennis gear we use on the court matters, and tennis shoes simply cannot be ignored. Not only do the physical features of our foot, such as its shape and size, differ from one another but we all move and feel differently.
To make matters worse, there are dozens of tennis shoe brands these days which, in turn, have dozens of types and models to offer, making finding the best tennis shoe a real effort. To avoid that, we will be going over some of the best tennis shoes on the market today. 
Best Tennis Shoes By Category
The 21 Best Tennis Shoes Overall
Also Good Tennis Shoes
Buying Guide
Comfort
This has to be at the top of the priority list when purchasing a tennis shoe. Players need to run, slide and change directions to win a match. An uncomfortable shoe simply wouldn't allow that and is, therefore, useless.
Stability
One thing is quite obvious when we see Djokovic slide on a tennis court. Tennis is mostly about lateral movement, and players often need to change direction very quickly and shift their weight. Doing so is more convenient with a good tennis shoe as their outsoles are designed keeping that in mind.
Support
Tennis shoes are generally heavier than other types of shoes. This is largely attributable to their uppers which have to take into account the great lateral movement in tennis. Not only do they extend high around the ankles, but they also make use of heavier materials such as leather which is kept quite thick as well.
This helps avoid ankle sprain and increases stability. However, on the flip side, it decreases maneuverability. As such, those who depend more on their movement to dominate the game would be better off with a lightweight, less supportive shoe.
Fit
A good tennis shoe must fit the foot of the tennis player perfectly. This is easier said than done. It can be difficult for some to figure out how wide or narrow their feet are. In that case, shoes of different widths should be tested and compared with the current one to get an idea of which would be better for sliding and running.
Durability
Tennis is a physically demanding game involving a lot of movement with players constantly shifting their weight from one side to another.
So, a tennis shoe needs to be strong enough to last at least a few months even for those who practice a lot and play aggressively. A durable shoe has a sturdy upper and a firm outsole that doesn't abrade easily.
Ventilation
Tennis shoes that lack breathability can lead to a greater accumulation of sweat, which can cause bacterial or fungal infections. Normally, the ones with mesh uppers offer better ventilation.
Traction
Slipping in a tennis match may cause an injury in addition to losing a point. Shoes providing better traction have outsoles with a zig-zag tread pattern and special, grippy rubber.
Surface
Different surfaces require different shoes. Hard court shoes and clay court shoes nevertheless share some features. The outsoles of both have a zig-zag tread pattern to provide better grip while quickly accelerating or stopping, however, the hardcourt ones are more durable due to the abrasive nature of the surface.
On the other hand, grass, like clay, is slippery, but that is where the similarities between the two surfaces end. As a result, grass court shoes generally have a few unique features.
The small bumps across the length of their outsole help with the surface's fast and low bounce. They are also lightweight with thinner, less durable soles and upper. Once again, this allows for quick acceleration and direction changes.
Look
There are a few things to keep in mind here. First, tennis shoes with greater support, stability, and control usually have high uppers and thick soles. So, powerful players who rely on sheer power to win points should get one of these.
In contrast, those who have a more dynamic game would need to go with a lightweight shoe. These have short uppers and thinner soles and often less protection on the outside.
Weight
Tennis shoes usually weigh anywhere between 308 grams and 470 grams. To be classified as lightweight, they must tip the scales at anything under 400 grams.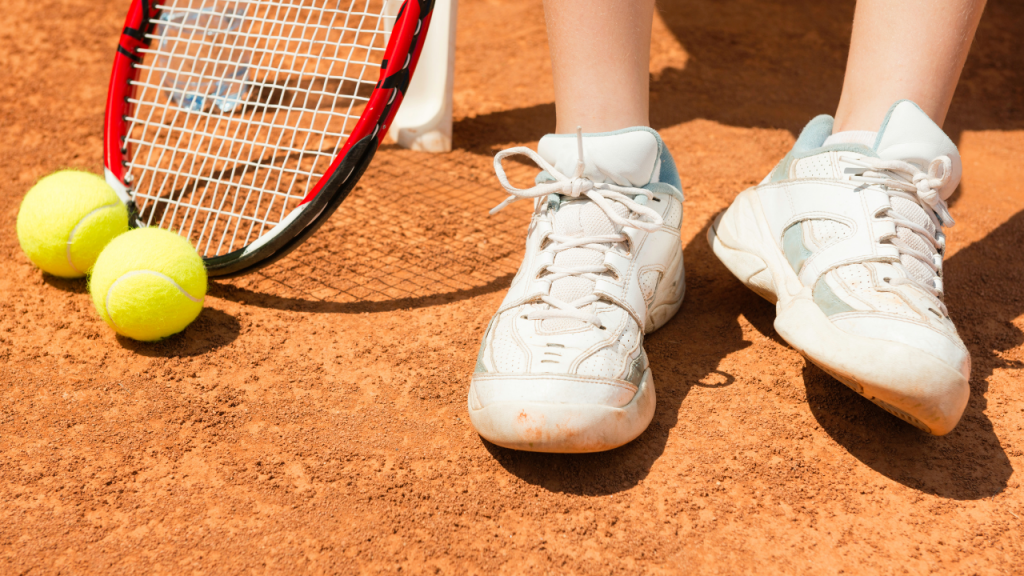 FAQs
Can I Wear Running Shoes for Tennis?
Tennis can be played with a running shoe, however, it wouldn't provide the same level of traction or stability during lateral movement as a tennis shoe.
Can Tennis Shoes Be Used for Walking?
They can be. Having said that, there are a few disadvantages to doing that. First, tennis shoes are considerably more expensive than walking shoes. Using them for walking would unnecessarily wear out their outsoles, which are vital in providing high traction on the court. They are also heavier than a walking shoe on average.
How Long Do Tennis Shoes Last?
This varies based on how long and often they are played with. A new tennis shoe is generally required when the midsole is worn out. On average, midsoles last somewhere between 50 and 60 hours of play.
If we do the math, this means those who play for an hour once every week would need to get a new pair of tennis shoes for themselves once a year.
What's the Difference Between Tennis Shoes and Sneakers?
Sneakers are for casual use, like walking, and although tennis shoes are also usually referred to as sneakers, they actually aren't. Tennis shoes may have some similarities with sneakers but they are bespoke footwear.
They have special soles, a reinforced toe guard, and many other features that provide the support, stability, and durability necessary to perform well on a tennis court.
What Tennis Shoe Does Novak Djokovic Play In?
Novak Djokovic has played in the high performance Asics Court FF2, one of the best men's tennis shoes for the last few years.
What Is the Best Tennis Shoe of All Time?
Some tennis experts say that the Nike Zoom Vapor X, originally designed for Roger Federer, is the best tennis shoe ever. Unfortunately, this model has been discontinued. Your best chance to find it might be on eBay these days.
How To Choose The Best Tennis Shoes?