Looking for the best tennis ball machine? Look no further than this guide. We have the top-rated models for you to choose from.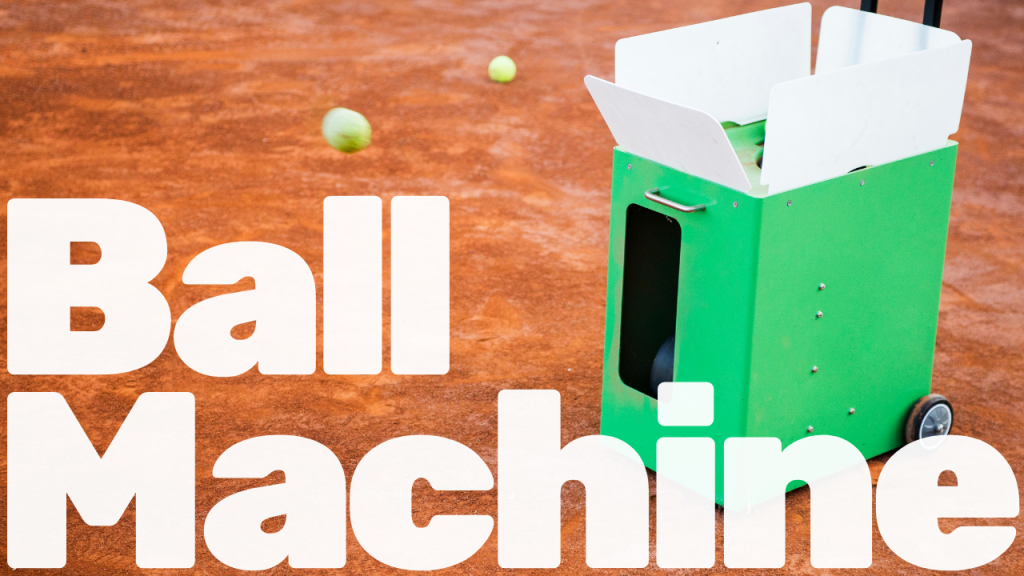 ---
Tennis ball machines are one of the quickest and most effective ways to improve your game. They allow you to practice drills without the supervision of a coach or a hitting partner and to play whenever and wherever you want.
Below are reviews of the top tennis ball machines available today and a detailed guide to selecting the best tennis ball machine for your needs. In addition, we have listed every feature you should think about before buying a tennis ball machine.
---
Quick Navigation
---
THE 11 BEST TENNIS BALL Machines
---
Top Pick
Runner Up
Also Great
Lobster Sports Elite Liberty
---
---
---
Spinshot Player
The Spinshot Player tennis ball machine is the market's most advanced battery-powered portable tennis ball machine. With its innovative design, you can program the height, direction, spin, and speed for each of six consecutive shots and save them to your custom drills.
Control the device with your mobile app, ensuring the best usability and adjusting its many features. For example, this machine's 12 pre-programmed drills cover a variety of shot positions. You can change these drills or create your own to match your skill level. You can also use a watch remote to control the machine.
With very little programming, you can create a 2-line drill of any width and height. You can do all of this on your own phone and save it to your device.
Then, the next time you use the machine, simply press the drill number button to launch your session. Because of its ease of use, even the youngest players can learn to operate the Spinshot Player model.
---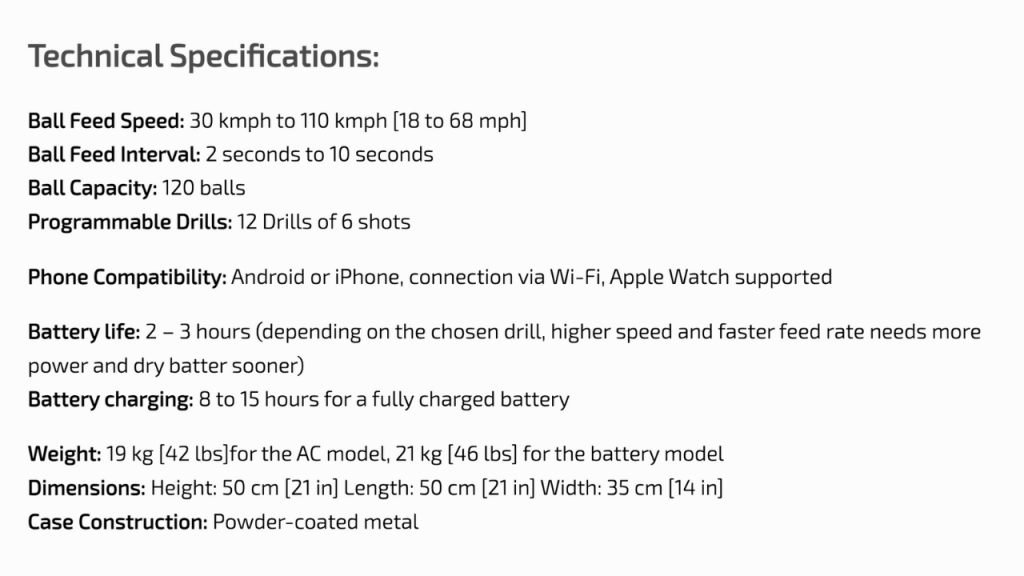 ---
Lobster Elite Liberty
Lobster Sports Elite Liberty tennis ball machine has many essential features that will fit everyone's style. For instance, on a user-friendly control panel, you can set the desired speed, ball spin, and feed interval to create a session tailored to your specific needs.
The speed range is more extensive than I would assume from a machine for beginners at this price. This machine is one of the fastest on the market, with a top speed of 80 mph. The feed interval range is also more extensive than on most machines.
You can choose from several types of flat shots, topspin, or backspin variations. Consequently, it offers a spectrum from which everyone can select what he or she prefers.
The Control panel is simple to use, and I enjoy one little detail that other models lack. The machine's speed range is displayed as the actual mph unit, and the feed interval is displayed in seconds.
The height of shots can be adjusted manually using a handle on the side of the machine. Additionally, a random horizontal oscillation mode is built into the device. In the end, you can choose whether to use this feature or stick to the same direction shots during practice.
Some may argue that this is insufficient but keep in mind that this machine is on the cheaper side of the price spectrum.
---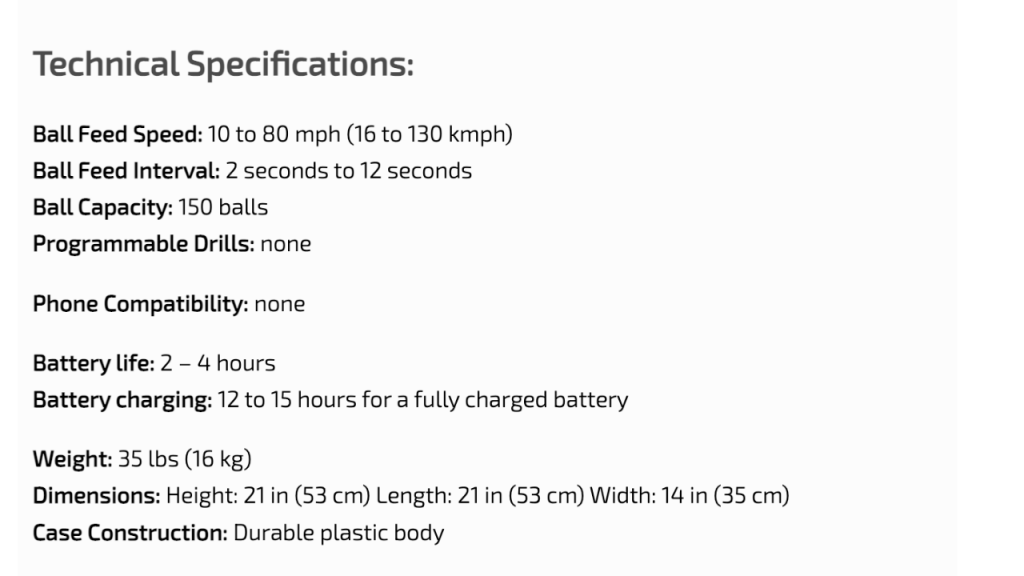 ---
Spinshot Plus 2
The Spinshot Plus 2 tennis ball machine incorporates the original Plus model's functionalities with the Player model's additional features. Compared to the original Plus model, the Plus 2 now includes the Drill Creator App feature, allowing full drill setting automation.
Also, in comparison to the Player model, the Plus 2 model control panel has an OLED screen, letting you adjust horizontal and vertical oscillations. As a result, users are not required to use the App to set the oscillation drills. Instead, on the Plus 2 panel, simply press the drill button to go through the twelve drills, just like the Player model.
---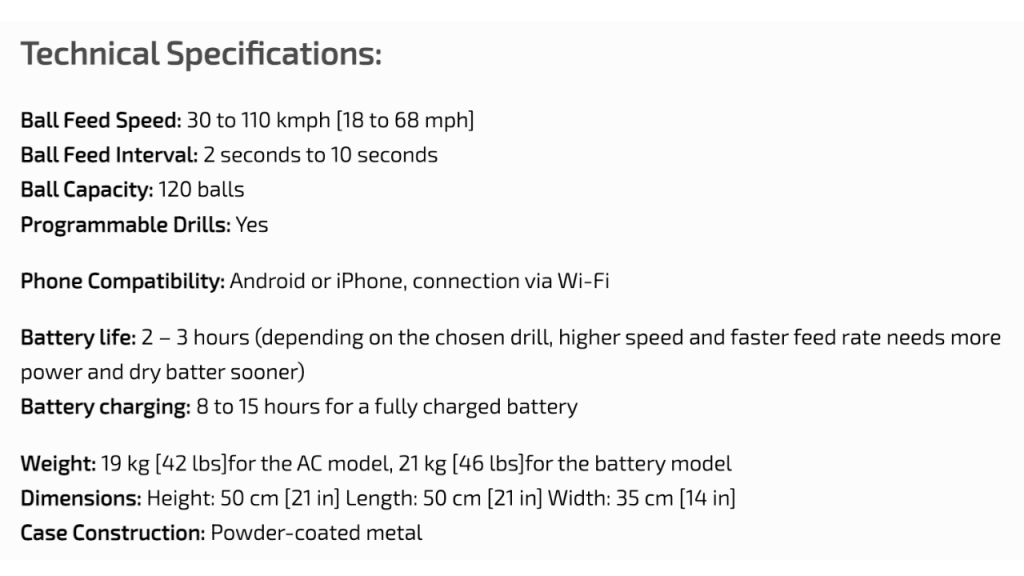 ---
Lobster Elite 2
The price and features of this machine make it a success among tennis players. The machine offers three settings: narrow, medium, wide, random oscillation, top, and backspin.
This tennis ball machine is one of the lightest on the market, weighing only 44 lbs. Because of its lightweight, it is ideal for hauling to and from the court and in or out of your trunk. In addition, the compact profile and robust design make the machine functional and visually appealing.
Unlike other tennis ball machines, the Elite 2 does not appear clunky. Instead, the machine is easy to maneuver around the court thanks to its extra-large wheels. The Elite 2 simulates real-player motion with a feed rate ranging from 2-12 sec.
In addition, it can shoot tennis balls at speeds ranging from 10-80 mph and can be modified to meet your training needs. The Lobster Elite 2 has a 150 ball hopper , similar to the Elite 1, to maximize time on the court without having to reload.
Furthermore, the machine is battery-powered, with the charger being included in the price. When fully charged, the battery has a backup time of 4- 8 hrs, depending on how frequently you use the machine.
---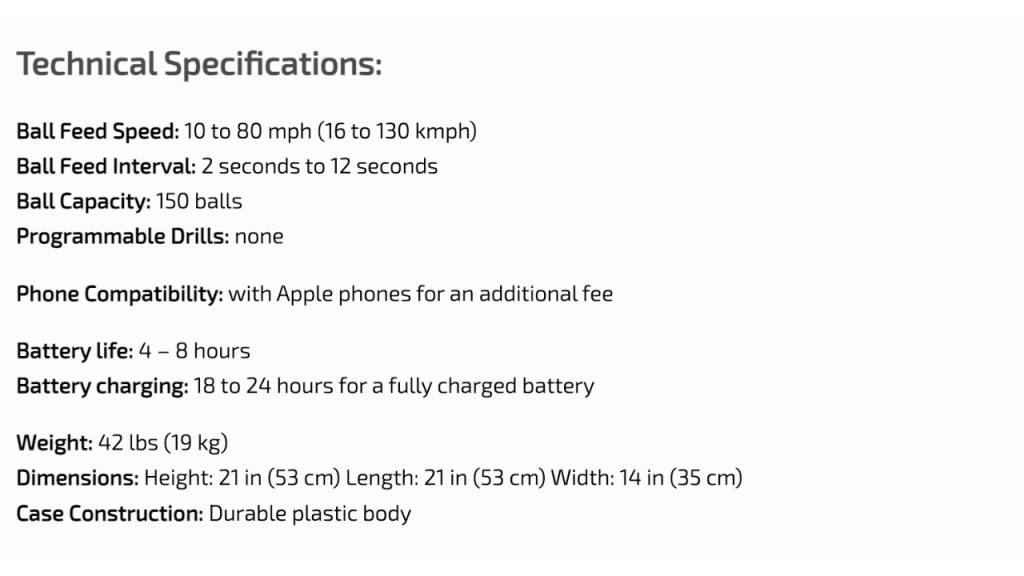 ---
Spinshot Pro
Spinshot Pro includes a ball feeder that holds 120 tennis balls. The control panel on the machine's side allows you to change four basic specifications. The speed range is adjustable from 18-68 mph. The choice is made in steps, with one step equaling approximately five mph. The ball feed interval ranges from 2-10 sec.
Sadly, this is also a sign that all Spinshot machines display speed and feed intervals in units rather than actual metrics. The Spinshot Pro has a fairly extensive selection of spins. There are six different levels of backspin and six different levels of topspin.
It is comparable to what competing companies in the same price range provide but less than what the advanced Spinshot Player model provides. In addition, the height is set up electrically, which is convenient because it eliminates the need to manually adjust the height of the shots.
---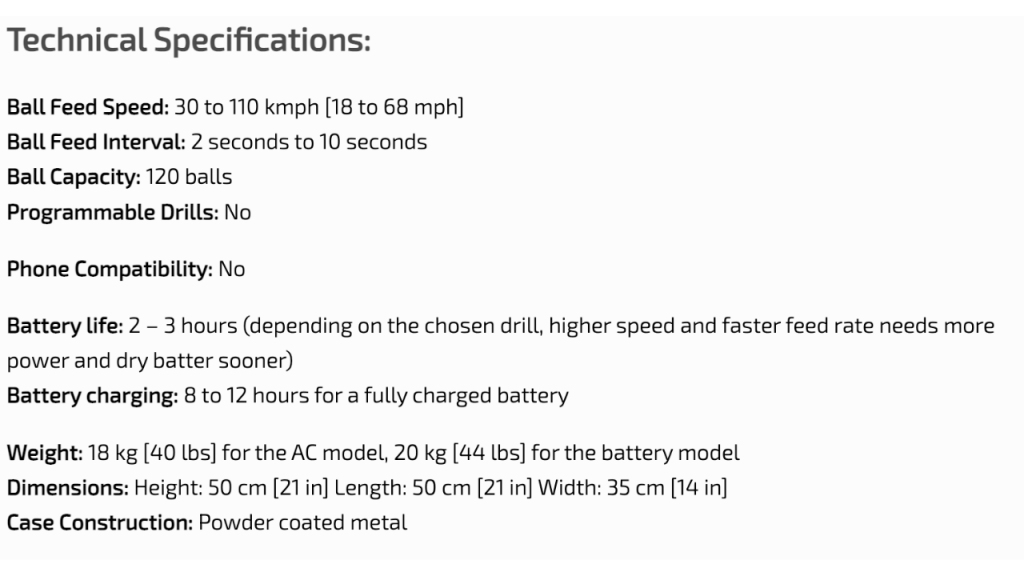 ---
Tennis Tutor Prolite
One of the best all-rounders available today is the Tennis Tutor Prolite ball machine. The Prolite, the Prolite plus's smaller brother, is one of the most compact designs, only 12″ tall. It also weighs less than 30 lbs and has an easy-to-carry case handle, making it very easy to pick up and carry anywhere on the court.
Furthermore, the Tennis Tutor Prolite is made of high-quality, durable plastic, making it robust and capable of withstanding even the most powerful shots! You can also be confident that your new ball machine will not break down anytime soon because Tennis Tutor backs it up with a three-year part and labor warranty.
With ball machines, you get what you pay for, so it's worth investing in a high-quality product that will last for years. You can purchase extended warranties to give yourself even more peace of mind.
---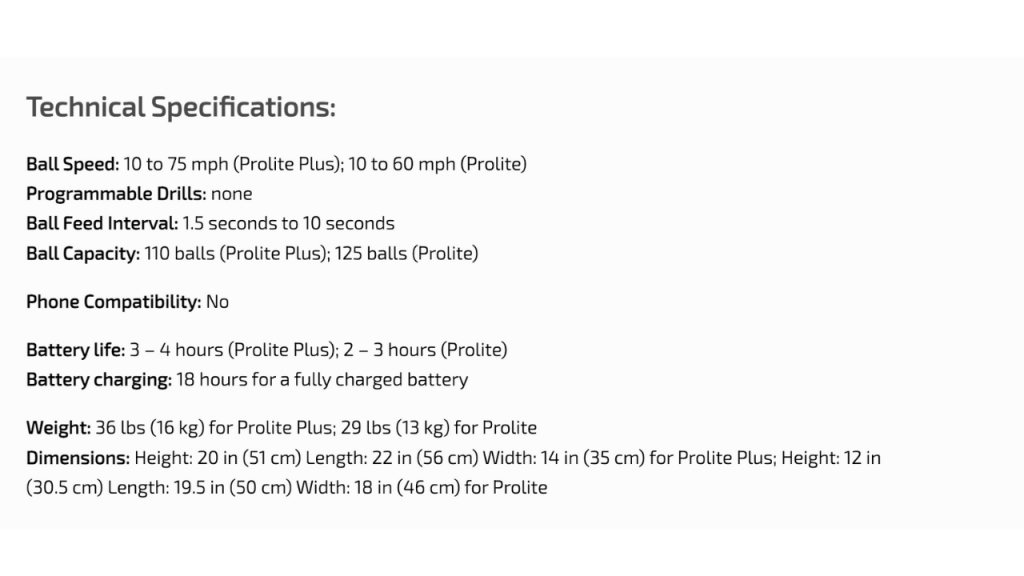 ---
Wilson Portable
The Wilson Portable Tennis Ball Machine is well-known in tennis, and anything with the Wilson name on it often draws a lot more attention. The Wilson Portable has a speed range of 10-75 mph. The feed interval can be set between 1.5-10 secs.
A turning knob can be used to modify both parameters in ten steps. The ball capacity is at 110. That is slightly less than the Spinshot and Lobster standards of 120 and 150 balls, respectively. The elevation of shots is controlled electrically via a simple button on the control panel.
There are four different types of backspin, four topspin, and one primary flat shot option, which is a lot of flexibility for any intermediate player. Furthermore, a random and a two-line oscillation mode is also available for an additional fee. All elements are easily configured using the control panel on the side of the machine.
---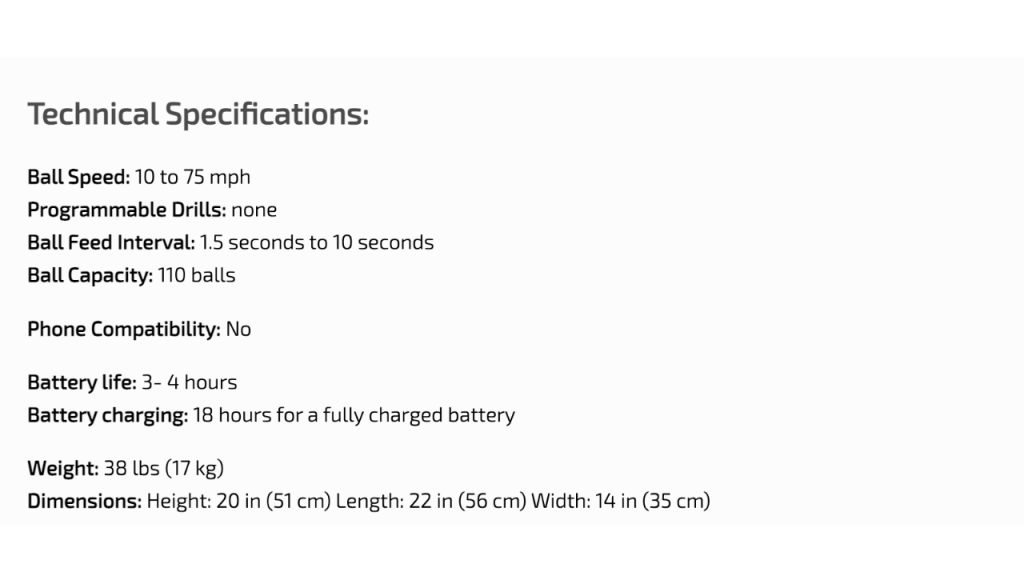 ---
TENNIS TUTOR TENNIS TWIST
The Tennis Twist is a simple model with a striking appearance. It delivers the ball to a different length without any spin (just flat). The shot's length can be adjusted from 10-20 ft. The ball feeding interval is set at five seconds. The ball toss has a speed of 15 mph.
That's all the Tennis Twist has to offer. There are no drills, oscillation, spin, or remote controls. It is a pure tossing partner, the coach's replacement, who can throw the ball at the exact frequency and speed over and over. The holder's ball capacity is 28 balls, and the machine weighs only 11 pounds.
---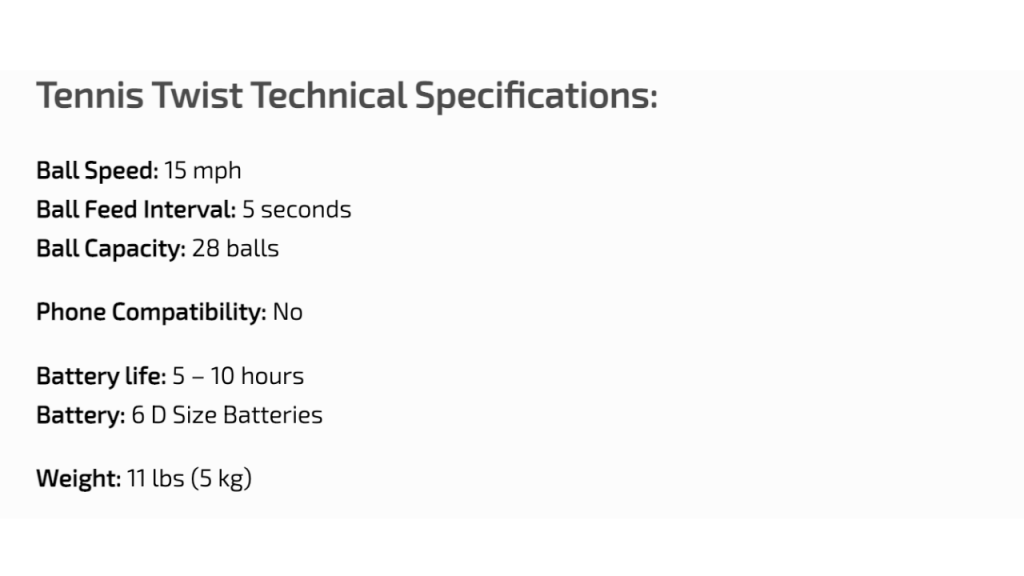 ---
Sports Tutor Tennis Cube
The Tennis Cube is one of the smaller tennis ball machines on the market for beginning and intermediate players (NTRP 2.0 – 4.0). It is so light that almost anyone can lift it, and it fits into even the tiniest car trunks.
The Tennis Cube can fire balls every 2-10 secs or whenever you want, allowing you to practice at your own tempo. In addition, the Tennis Cube can hold a standard pick-up basket full of balls and even waits ten seconds after you turn it on before shooting balls, allowing you enough time to jog to the other side of the net.
It has a smart battery charger that recharges the Tennis Cube overnight. It also incorporates a random oscillator that launches balls from side to side, giving you a good workout while hitting balls on the run.
---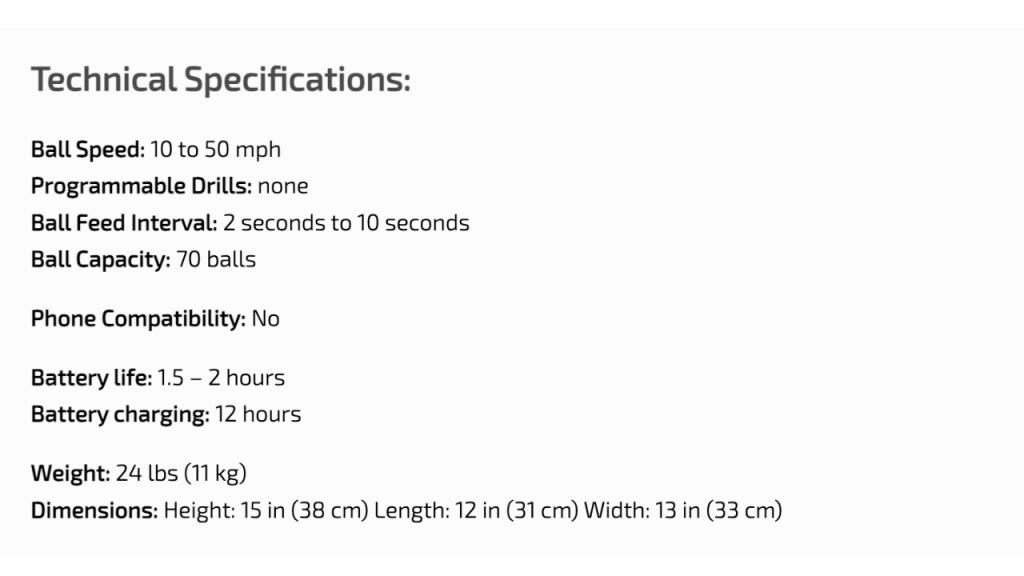 ---
Siboasi
The Siboasi is a lightweight tennis ball machine designed to allow you to improve your strokes the right way while easily moving wherever your next practice session takes you. The machine's battery can support 4-5 hours of play, giving you plenty of time on the court between recharges.
The control panel's simple design includes AC power with a charger, DC power for our 12V batteries, and battery status. Speed and oscillation can be controlled from the other side of the court via remote control to 28 different court locations.
Simply select the location, ball speed, ball spin, and feed rate for each shot before saving it as a personalized drill. The Siboasi can hold up to 150 balls and is ideal for players of all skill levels looking for a machine that is both portable and full of features.
---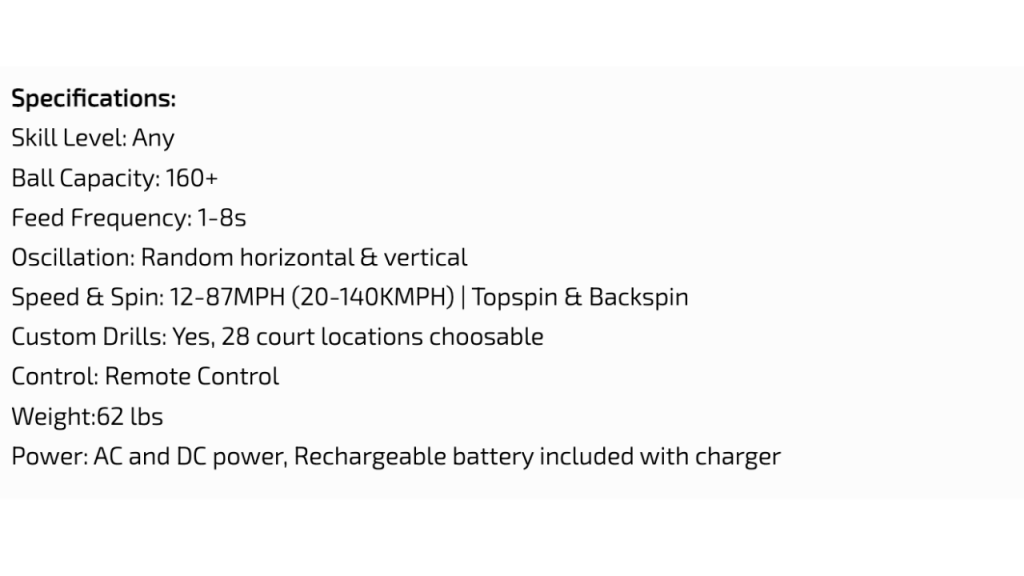 ---
Slinger Bag
The Slinger Bag attempted to come up with a tennis ball machine at a very low cost, making it accessible to almost anyone. But, surprisingly, it can still provide many exciting features in this price range. The ball capacity is at 144, close to the 150 ball limit set by Lobster.
The balls will be shot with preset topspin (that can increase with a higher speed setting). There is also an option that allows you to manually adjust the launch angle from 10-40 degrees. The ball speed feed range is 10-40 mph, and the feed interval range is 2-7 seconds.
The maximum speed and feed interval are slightly lower than those offered by other machines on the market. However, these characteristics remain consistent with the market standard in this category.
---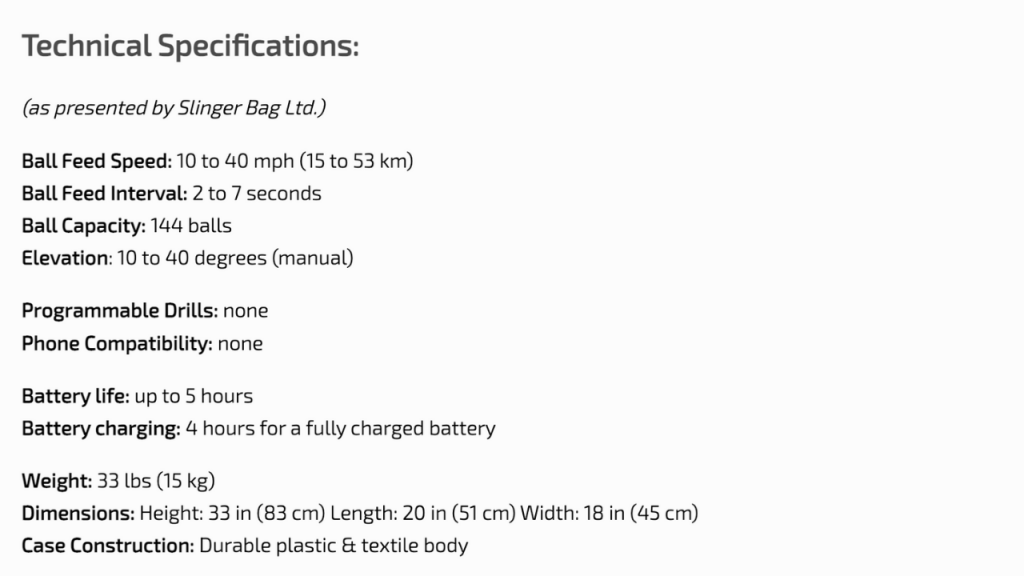 ---
The history of the tennis ball machine
Rene Lacoste, a top tennis player in the 1920s and 1930s known for his "alligator" sports shirts, invented the first machine that projected balls to tennis players. With the sports company Dunlop, he patented a hand-cranked tennis ball launcher in the 1920s. A partner on the other side of the court operated the machine, allowing him to perform countless stroke repetitions.
In 1970, inventor Bob McLure created the first commercially feasible tennis ball machine by reverse-engineering a vacuum cleaner's motor to generate enough pressure to propel a tennis ball out of a pneumatic tube. He christened the machine the Little Prince and also founded Prince Sports, Inc. Some ball machine manufacturers still use this method of feeding balls, but more and more modern machines feed balls by squeezing them through rotating wheels.
---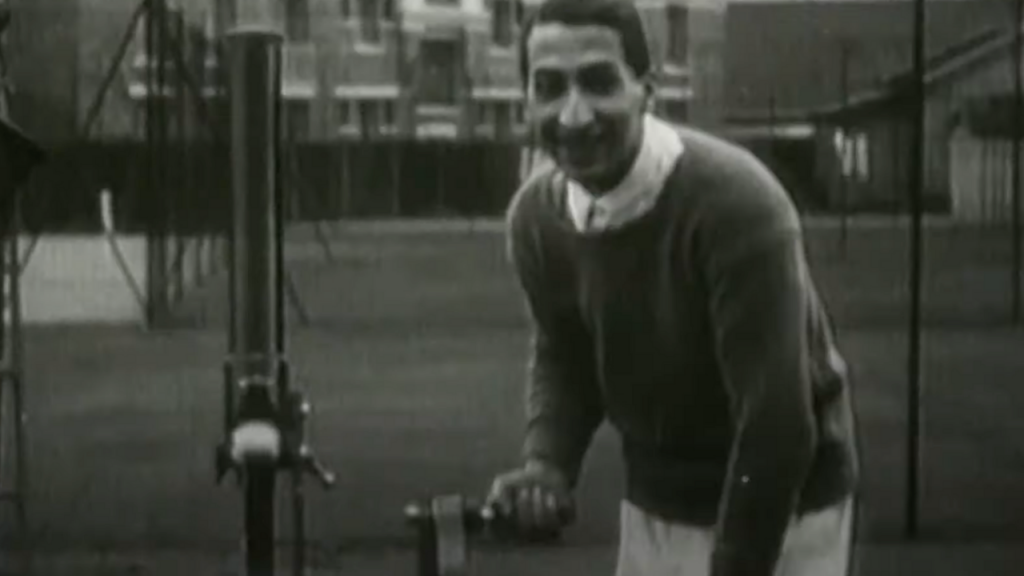 ---
Benefits of a Ball Machine
For starters, tennis ball machines deliver a consistent ball for you to hit, allowing you to benefit from repetition and truly time and groove your strokes. Even the best tennis coach cannot consistently feed you the exact same ball, and if you want to instill a stroke into your DNA, this is a must.
Second, compared to the costs of hiring a pro to feed you balls, ball machines are a low-cost investment. It could also have more personality. Third, tennis ball machines work with your schedule rather than against it. Finally, when using a ball machine, the only thing you rely on is court availability, which is easy to come by in many parts of the country.
This also implies that you can play for as long as you want without worrying about wasting lesson time. Fourth, you can practice at your own pace with ball machines. If you want to slowly and patiently work on your mechanics, you can do so without wearing out your hitting partner's patience.
The machine will have you gasping for air if you want to have a decent workout. A ball machine can not only deliver hard and fast balls in one location but also be set to have you running around the court. You can even practice very specific, and game-like shot sequences on some ball machines.
---
Buying Guide
If you are a tennis club or an individual, you should consider your situation and choose a portable ball machine with beneficial functionalities. For example, will it be heavily used and necessitate a huge ball capacity?
Will it be used by tennis players with varying abilities requiring different ball-feeding speeds? Are there any outlets close to the court, or do you need a battery-powered machine? Let's take a look at a few of these features.
---
Power options
Tennis ball machines come typically in two power options: A/C and battery. A/C power provides the necessary juice without recharging, but players must always have a proper power source on site. A battery-powered model might be the best option if you need a more portable tennis ball machine and don't have access to an outlet.
---
Capacity
How many balls do you want your machine to hold at once? Will you be the primary user of this machine, or will several other players use it also? Most ball machines hold between 50 and 300 balls, with the average being around 150. If you only plan to use it for yourself or a single student, a machine with a smaller ball capacity is enough.
However, the consensus is that having more balls is ultimately better. Of course, larger machines are typically larger, more difficult to transport, and more expensive. It is ultimately up to you to determine the appropriate amount to meet your needs.
---
Weight & Portability
Check the weight before purchasing a large ball machine to practice on your local court. The larger ones are quite heavy, and carrying them from your car to your house may prove difficult. Although many tennis ball machines have wheels, you'll still need smooth terrain with few bumps and steps to move them around comfortably.
Because you will need to move the ball machine you purchase on and off the court on a regular basis, it should be fairly portable. This is especially true if you keep your tennis ball machine in a shared facility with other players. In addition, look for features like built-in large wheels and a sturdy metal handle to make moving it easier.
---
Propulsion
There are two ball machine systems available: Spinning Wheels and Pneumatic Air Pressure. The more expensive, feature-rich, and popular models are spinning wheel machines. Tennis balls are fed into the machine by wheels located within the machine. The wheels have more features than an air pressure machine, and you can often easily and precisely adjust the speed, feed rate, spin, and target. High air pressure is used in air pressure machines to shoot the balls out of the machine.
They are usually less expensive because they use AC power rather than batteries. After all, such air pressure necessitates a significant amount of power. However, aside from the price, air pressure machines are mostly inferior in terms of features and quality to spinning wheel machines.
---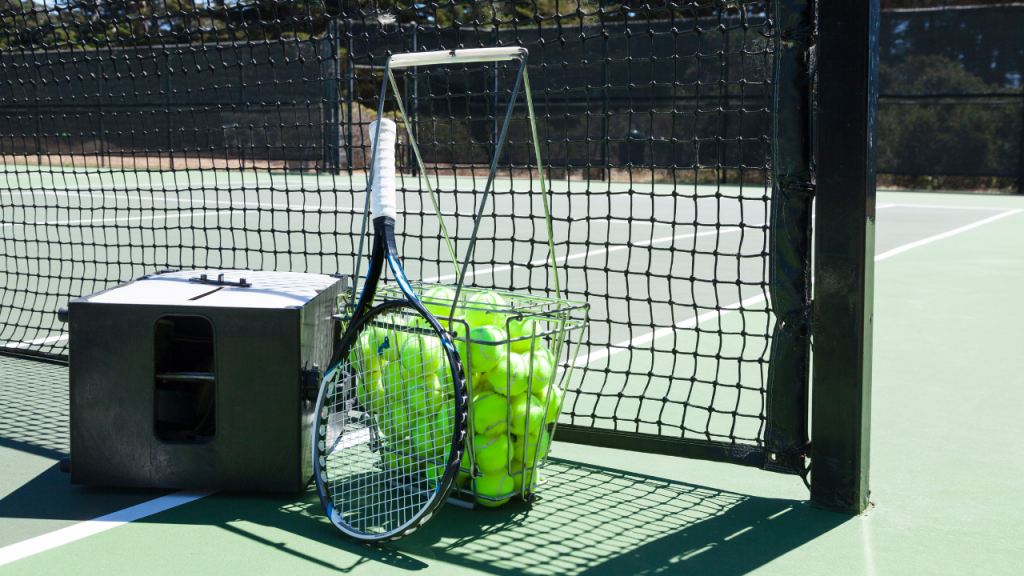 ---
Feed rate or Interval
The feed rate, also known as interval, is the time between discharging each ball from the machine. The lower the feed rate or interval, the less time a player has between shots, making the practice more difficult or engaging.
Higher feed rates or intervals allow more time between shots, especially benefiting beginners. Most tennis ball machines have variable feed rates ranging from 2-10 seconds, allowing you to adjust them to your personal preferences.
---
Ball Speed
The machine's speed is determined by how quickly it can deliver each tennis ball. More advanced players require a machine that feeds the ball more powerfully to simulate real-world matchplay. When choosing the best ball machine for you, keep ball speed in mind.
Your playing style and practice objectives frequently necessitate a wide range of speeds. Better ball and spin speed are essential for intermediate and advanced players, especially when practicing volleys and groundstrokes. Most ball machines have speeds ranging from 10-95 mph.
---
Oscillation
Horizontal oscillation
Some ball machines can only feed in one direction, whereas more advanced machines can feed in both the forehand and backhand side.
Vertical oscillation
For instance, you'll need a machine that can deliver different vertical oscillations on each shot to practice high lobs, overheads, and low volleys.
---
Spin
A tennis ball machine that can produce topspin and backspin shots is an excellent function to a ball machine's capabilities. This allows you to practice various shots, change tactics, and work on specific technical skills.
Most tennis ball machines also allow you to modify the level of spin, giving you more control over your practice session. More experienced players like to practice in-match sequences, so having a machine that can hit flat, topspin, and slices is a huge advantage.
---
Drill Modes & Settings
Customizable drills allow you to create ball launch sequences with varying speeds, spins, and locations on the court based on the situation. Even better, medium to higher-end models typically come with pre-programmed drills, allowing you to play complex sequences immediately. Again, this is a feature you should look into if you want more challenging and adaptable training sessions.
---
Control: Phone App, Remote, or Panel
Almost every tennis ball machine used to have a back panel where you could change your settings. Nowadays, most ball machines have a remote control or even a phone app that allows you to control your next shot. This is, of course, a premium feature, but it can help you choose between two models.
---
Warranty
A tennis ball machine is a large investment that should pay off in the long run. That is why there must be an assurance that it will function properly for an extended period of time. So, a machine with a warranty would alleviate your concerns when purchasing one, and you should look into that before purchasing one.
---
Price & Budget
A quality tennis ball machine should cost between $600 and $2,500. The average price is $2,000, with a median price of $1,700. The best tennis ball machines are expensive and require a large initial investment, especially those with more features.
As a result, when picking your desired tennis ball machine, the price and frequency of use should be taken into consideration. Tennis ball machines pay for themselves over time if used for practice on a regular basis. If not, your money would be better spent elsewhere, such as on private tennis lessons.
---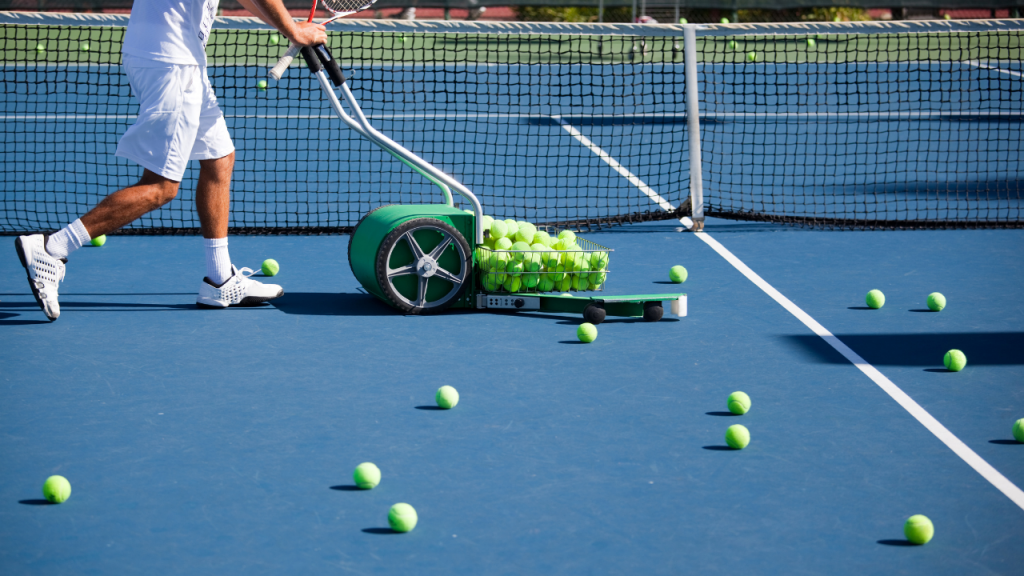 ---
FAQs
How long does a tennis ball machine last?
Most importantly, most tennis ball machines with large batteries provide between 2-8 hrs of playtime.
How many balls can a tennis ball machine hold?
Tennis ball machines typically hold between 50 and 300 balls, so those who practice without a partner or coach may prefer to invest in a larger capacity machine to reduce the time it takes to refill.
Where can I purchase tennis ball machine accessories?
Click here to get redirected to the Tennis Warehouse site with the best-selling accessories for any tennis ball machine.
Do any of the ball machines simulate serves?
A ball machine can challenge you with a variety of shots. A good tennis ball machine will mix shots with varying angles, depths, speeds, and spins. The tennis serve is the only shot that a ball machine cannot simulate.
---
Extra Resource
In the video below, coach Simon shows you 10 drills that will help you improve your forehand, backhand, slice, volley and footwork.
---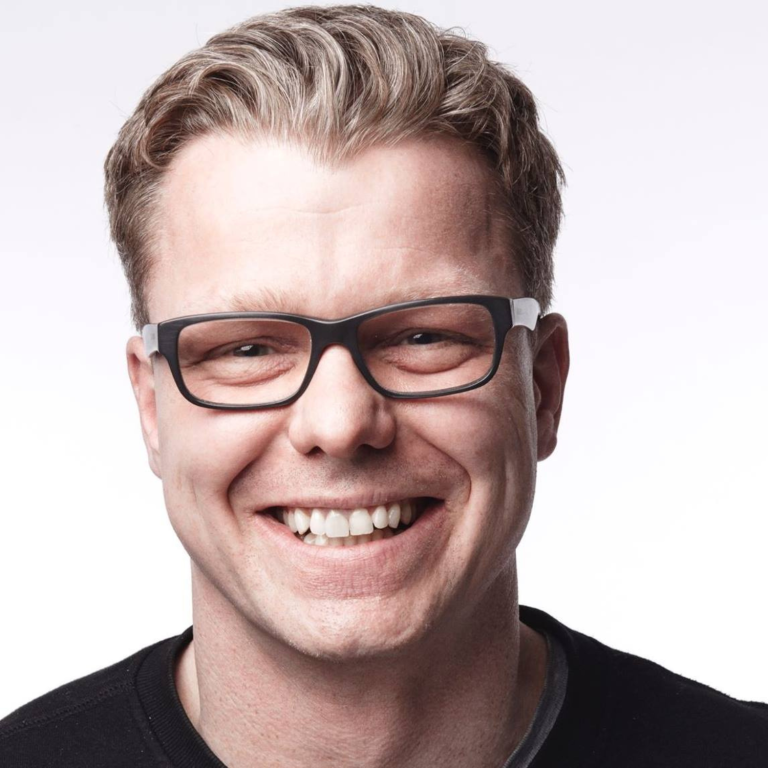 Christoph Friedrich is a German tennis player and coach currently residing in Oakland, California. He began his tennis journey at the age of eight and has since dedicated his life to the sport. After working as a tennis coach and hitting partner in New York City for eight years, Christoph decided to share his knowledge and experience with tennis players around the world by creating the My Tennis Expert blog. His goal is to make tennis education accessible to everyone and help players select the best equipment for their game, from racquets and strings to shoes and overgrips. Christoph's extensive research and expertise in tennis technology make him a valuable resource for players of all levels.